S
M
T
W
T
F
S
1
2
3
4
5
6
7
8
9
10
11
12
13
14
15
16
17
18
19
20
21
22
23
24
25
26
27
28
29
30
いやぁ、先日のニュース、大間違いしていました!
"Stormbreaker"の倫敦プレミア、先週ではなくて、今週でした・・・・
写真が無いのも当然・・・・嗚呼、情けない・・・・。
で、やっと本当にプレミアが開催されて、今、情報も写真もどっさり流出しているのだけれど。
その量の多さに圧倒。
この映画、もっとマイナーな物だと思っていたので、
この盛り上がりぶりは、ナニ???みたいな・・・。
プレミアの雰囲気からすると、大ヒット間違いなし!なカンジ。
沢山あるソースの中から、無難なこれを紹介。
コチラ
。
横のEntertainment Videosでは
ITNの動画
も。ユアンも少しだけれど登場(喜!)。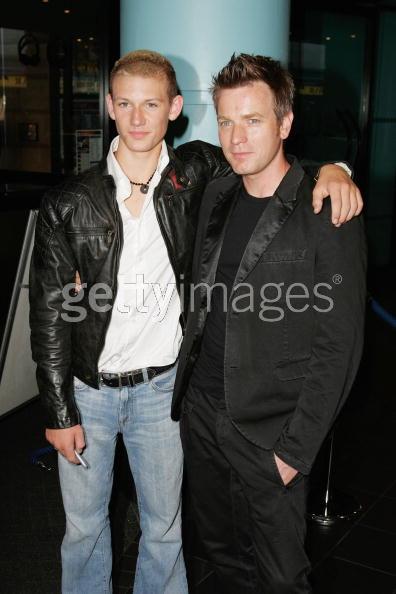 他にも自分的に面白いニュースが結構あるのだが、
今は紹介する体力が無いので、とりあえず
16日付けIndependentの2件。
(Independentは数日後には記事全文を読むのに£1掛かってしまうので、
今のうちにとりあえず拝借。)
①
Hollywood stars meet the real world. It's pay cuts all round
Tinseltown 2006: takings are down, costs are up and blockbusters are out
By John Hiscock in Los Angeles
お金の話。そして、昨年、どの映画が・誰が最も稼いだか。
Hollywood stars are being forced to take pay cuts as the major studios are pulling the plug on big-budget projects.

With last year's box office takings down 5.2 per cent and the cost of making movies ballooning because of added expenses for digital enhancement and global marketing, studios are refusing to meet stars' financial demands. In addition, several high-profile films due to go into production have suddenly disappeared from view.

Studios have taken note of the fact that only three of the 10 highest-grossing films last year - War of the Worlds, Charlie and the Chocolate Factory and Mr and Mrs Smith - were star-driven. The rest of the major hits - such as Star Wars: Episode III - Revenge of the Sith, Harry Potter and the Goblet of Fire and The Chronicles of Narnia - had no stellar names, or fat salaries, to speak of.

In addition, all of this year's Oscar nominees for best actor - Philip Seymour Hoffman (Capote), Terence Howard (Hustle and Flow), David Strathairn (Good Night, and Good Luck), Joaquin Phoenix (Walk the Line) and Heath Ledger (Brokeback Mountain) - worked for rock-bottom wages. The last of the big paydays went to Lord of the Rings director Peter Jackson, who was paid a reported $20m plus 20 per cent of the gross for King Kong, made by Universal.

Now studios are making sure that before any stars or directors take money from the film, they get their cut. Sony refused to give the green light for the upcoming romantic comedy The Holiday until Cameron Diaz agreed to a "cash break-even" deal. Even Tom Cruise, who normally collects around 25 per cent of his films' gross profits, agreed to take a much lower cut for Mission: Impossible 3 when Paramount was faced with a massively bloated budget and at one stage threatened to cancel the project.

Brad Pitt is another one who has taken a big cut in pay, from his customary fee of up to $30m down to just £750,000 for his latest, The Assassination of Jesse James.

Former Twentieth Century Fox chairman Bill Mechanic describes it as a long overdue rationalisation of the business: "In the past you paid someone a lot of money to star in a movie and then you spent a lot of money to make a movie and then you lost money."

Another studio executive said: "Movies no longer need big star names to make money. With most studios having to answer to larger parent companies their main aim now is to assess financial risk and that means making movies that cost less."
In recent weeks Believe It or Not, a film to star Jim Carrey and estimated to cost around £120m, was shut down by Paramount and another Carrey film, Used Guys, was rejected by Fox when the budget passed £90m. As the budget of its long-planned American Gangster crept over the £80m mark, Universal shelled out £15m to Denzel Washington to meet its "pay-or-play" contract - meaning the actor gets paid regardless - rather than go ahead with making the film.

Silence surrounds the Universal horror film The Bell Witch, which was due to go into production shortly and for which Reese Witherspoon was apparently to receive a massive £24m.

"Hollywood has always thrown ungodly sums of cash at top-tier actors, who ostensibly provide a kind of bomb shelter for the studios picking up the tab," said Entertainment Weekly.

"It was a strategy that worked well enough until it didn't ... now studios are trying to add a new step to their budget calculations: common sense."
BIG EARNERS
Three of the top-grossing movies of 2005 were star vehicles - but they were all beaten at the box office
War Of The Worlds
Tom Cruise's salary: $100m (£55m)
Total gross: $591m
Charlie and The Chocolate Factory
Johnny Depp: $18m
Total gross: $472m
Mr & Mrs Smith
Brad Pitt: $20m
Angelina Jolie: $10m
Total gross: $428m
Star Wars: Episode III - Revenge of the Sith
Ewan McGregor: $7m
Total gross: $848m
Harry Potter and the Goblet of Fire
Daniel Radcliffe: $11m
Total gross: $892m
The Chronicles of Narnia
No single large earner
Total gross: $739m
へぇ。ユアンって控え目だね。(だから、好きなのさ!)
②
Peter York On Ads: Smart, clever, grown-up and ideal for a cheapskate
FREE FILMFOUR
あのトマトユアンのFilm Fourの話。
I'm a multi-channel home. That's what they call them in those media analysts' reports, as in "viewing of ITV drama falls precipitously in multi-channel homes". We multi-channel homes are the essence of the modern demotic lifestyle. We're in Kelvin MacKenzie territory with a Jade Goody mindset. We watch what we like unfettered. Richard Hoggart can't stop us.

The Sky Plus EPG (we multi-channel homes like the occasional tech-sounding term), easy recording and pausing of about a million channels, is clever and it does give you more choice. In practice, I've ended up with a repertoire of about 20 channels additional to the five terrestrial ones, including, in my case, the digital sidekicks of the BBC, Channel 4 and ITV.

But even that's quintupling the free-to-air (more media wonk language) offer. And there's always the thought that you might cut loose and spend an evening watching the Nigerian answer to Home and Away on BEN African TV, or another day on film star profiles on the Biography channel. I don't know the half of it yet.

As it is, I like Living TV; the old British funnies on UKT; Discovery Home & Health and its marvellous freak-show stuff ("I had a 12-stone tumour", "The man with two heads"); the various newses (those wonderful US news presenter two-ups with their terrific clothes, dentistry and diction, and the whole "I'm Ed Winchester" tradition, constantly parodied here, but never properly captured).

There's notionally a fair bit of dedicated arts stranding but I'd prefer to get that from the BBC and Melvyn. I don't want the food and the housey-housey stuff (print does it miles better). Above all, I don't actually want the Big films or the Big sport, which is why most people have multi-channel and where the revenue comes from. I'm not interested in sport, I don't want the airline movie selection and I'm a cheapskate.

With one exception: I've often thought about FilmFour. More my sort of film. More cult and kinky and kitschy. More Brit. More old stuff. More of a London package. But I didn't want to pay. But now it's free, according to C4's new commercial. It's a great 65-second affair, looking just like a smart spoof of one of those epic 1980s privatisation ads (British Gas's "Tell Sid" especially). There are stars and locations and insistent music, there's a big theme colour - red - and all the one-nation tie and tropes of the form.

It starts in Trafalgar Square in the rain, the National Gallery's weedy pepper-pots behind. Little shards of red in long-shot and some muffled shouting about Free FilmFour. Then we go into star-spotting. There's Rhys Ifans - he's filled out nicely since Notting Hill, all those dinners at The Ivy and Nobu - peddling Free FilmFour on an estate of little 1970s houses with B&Q front doors. Not a hope, not a tickle - they're all slamming on him, implying, that FilmFour is altogether more a Camden Town taste.

There are blokes up ladders with hard hats putting up a poster, asking what it means and should they have it.

There's Hollywood-Chinese actress Lucy Lui in a propeller plane above, dragging an upside-down banner, shouting at the crowds through a megaphone (it's probably a filmic reference but I don't get it).

Back in Trafalgar Square the red shards resolve themselves as Judi Dench and Ewan McGregor on the steps, dressed up as a crab and a tomato, busking for Free FilmFour.

Ewan's asking why he has to be a tomato - "Am I a fruit or a vegetable?... I don't know." It's the question for leading men everywhere.

Dame Judi says: "That's the mystery of you." And in those two lines we go to the very heart of thespdom and its torments.

There's someone else - probably someone famous - setting off alarms in a suburban office car park; there's a botched poster and a poignant interchange between Denis Leary and Mackenzie Crook - both FilmFour types - to take us up to the driving, insistent, blood-red final three frames FILM / FOUR / FREE, set to those big 1970s guitar riffs.

Apparently Free FilmFour's coming next Sunday - 23 July. It's smart, it's clever, it's tremendously grown-up and it's just what I've always wanted.
続きはまた明日、おやすみなさい!
Remarque!

★メインサイト、
Mica's Websiteは
↑
こちら!

UNICEF for Children;
Unite against AIDS Campaign
↓
チームマイナス6%に参加しましょう!
★
Villarreal C.F.
★
Arsenal
★
Kimi
★
Stéphane
最新のトラックバック
ブログパーツ
このブログに掲載されている写真・画像・イラストを無断で使用することを禁じます。
ライフログ
カテゴリ
タグ
以前の記事
フォロー中のブログ
検索
その他のジャンル
ファン
記事ランキング
ブログジャンル
画像一覧