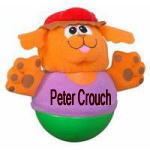 ユアンのニュースを検索していたら、
Guardian紙のサッカー記事
がヒット。
別に実際にユアンとは関係ないのだが、サッカー話として面白いので紹介。
Independent紙みたいに、後から読もうとしても有料になっていたりしたら困るので、
一応全部貼っておこう。
How to avoid getting stuck in a car door
by Christian O'Connell Saturday April 8, 2006
In the recent Ewan McGregor turkey The Island the rich and famous are cloned and their doppelgangers kept alive for spare parts in a sinister laboratory. With England's usual World Cup injury crisis gathering pace you wonder why football hasn't latched on to the idea.
最近のユアンの駄作(ひ、酷い!)"アイランド"では、金持ちや有名人はクローンを作り、
彼等のスペアパーツの為に彼等の"分身"が不気味なラボで生かされていた。
W杯を控えて、プレミアシップ選手達の怪我がますます問題となっている最近だが、
何故サッカー界がこの"クローン"のアイディアを頂かないのか、と貴方は思わないか?
Clubs spend so many millions on players, you'd think that they'd invest a bit more in making sure their property functioned properly. Imagine a whole warehouse on the edge of Cobham filled with surplus Arjen Robben heads? It makes you shudder just thinking about the row upon row of craniums that look freakishly old for their age. Roy Keane, a player susceptible to long periods of injury, could also benefit from this scientific breakthrough: foot worn out from stamping on strikers' heads, Roy? No problem, we'll screw on a new one.

We'd have to be careful that the new world order is not abused, though. I wouldn't put it past Jose Mourinho to build some sort of Frankenstriker using Roman Abramovich's millions. It could be a gruesome creation with the footballing brain of Wayne Rooney (unfortunately it can't be sold separately to his face), the brass neck of Didier Drogba, the torso of Alan Shearer which can make itself invisible to referees' eyes at will, the bulging yet sensual thighs of Roberto Carlos, and the huge boat feet of Peter Crouch which would give him the attributes of one of those weebles that can never be knocked over. I guarantee it'll happen by World Cup 2010..
アブラモヴィッチの大金を使って、モウリーニョがフランケンシュタインを作り上げる。
例えば、ルーニーのサッカー頭(生憎顔は別扱いにて却下!(笑))、ドログバの鉄面皮、
審判の視界から自在に消え得るアラン・シアラーの胴体、
ロベルト・カルロスのセクシーな太腿、
それを持ってすれば絶対倒れる事の無いウィーブル(卵型をした様々なキャラクターが居るおもちゃ)一族にもなれるであろう、
ピーター・クラウチのデカ足。
2010年のW杯までにはそんな事も在り得るだろう・・・・(そんな馬鹿な!)。
The development could also help swift recovery from the ridiculous injuries to which footballers are prone. Kevin Kyle injured himself this week in a bizarre accident which led to him scalding his testicles and thighs with a jug of boiling water. He claims that his young son accidentally kicked the jug over him. I bet he did it on purpose. I think he would rather chuck boiling water over his knackers than carry on playing for the Premiership's worst team. He reminds me a bit of those soldiers with shellshock during the first world war who shot off their own fingers and pretended a German sniper did it, in order to get sent home: "Please Sarge, don't make me go out on to the pitch again, I can't take any more - even Jon Stead's playing better than me."

Kyle is not alone. In the annals of footballing history there are enough to compile a whole reference book. I'm going to recount a smattering of them now but do me a favour; while you're reading, hum the Some Mothers Do 'Ave 'Em theme tune under your breath.

Robbie Keane, Carlo Cudicini and David Seaman have all injured themselves reaching for the remote control for their TV. The Arsenal legend Charlie George cut one of his toes off in a lawnmower accident. Continuing along the toe route, Darius Vassell contracted a nasty infection on one of his last year after a bit of DIY surgery on his foot with a power drill. Yes, a power drill.

The goalkeepers Santiago Canizares and David Beasant both injured their feet by dropping bottles on them. I think the contents of each particular bottle highlight the different levels of sophistication between English and continental footballers: Beasant's contained mayonnaise and the Spaniard's was full of sex panther aftershave.

The Croatian international Milan Rapaic once missed the start of a season because he poked himself in the eye with a sharp corner on an aeroplane boarding card. However the best story that sums up footballers' incompetence is the goalkeeper Mark Statham who, while at the small Scottish club Stalybridge Celtic, missed a game because he got his head caught in a car door. Just sit for a while and absorb that information - he went up against an item with no consciousness or capacity for intelligent thought and lost.

Footballers' ability to damage their bodies is limitless. I'm pretty sure it stems from having sod-all to do after training. With the hard drinking and betting culture pretty much unsustainable in this age of supreme fitness, pros have nothing to do for long stretches of time. Which brings us to another deadly risk players face on a daily basis, a condition called SARA, or Sexually Acquired Reactive Arthritis (It exists. I swear. Look it up). Because footballers have so much nookie they are particularly susceptible to it. Apparently, they catch something nasty and their knee joints swell up. So keep a close eye on England's players in the next game. If any of them start clutching a knee and limp off after 10 minutes we'll know what they've been up to the night before.